We are dedicated to providing the freshest and highest quality fruits and vegetables to our customers. Our produce is sourced from local farmers and markets, and we make sure to inspect each item to ensure it meets our high standards before offering it to you.
We offer a wide variety of seasonal fruits and vegetables, including:
Leafy greens like spinach, kale, and lettuce
Root vegetables like carrots, potatoes, and onions
Cruciferous vegetables like broccoli, cauliflower, and brussels sprouts
Berries like strawberries, blueberries, and raspberries
Stone fruits like peaches, plums, and cherries
Citrus fruits like oranges, lemons, and grapefruits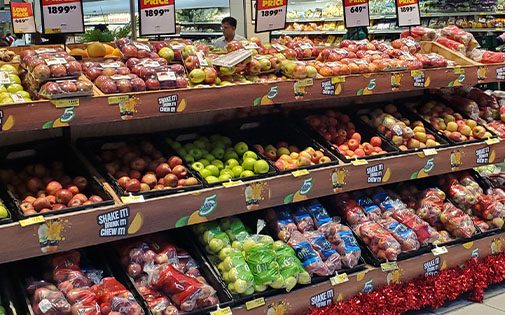 Locate a store to see our selection of fresh fruits and vegetables in person. We're open 9:00 AM – 9:00 PM every day, and our knowledgeable staff is always happy to help you find what you're looking for.